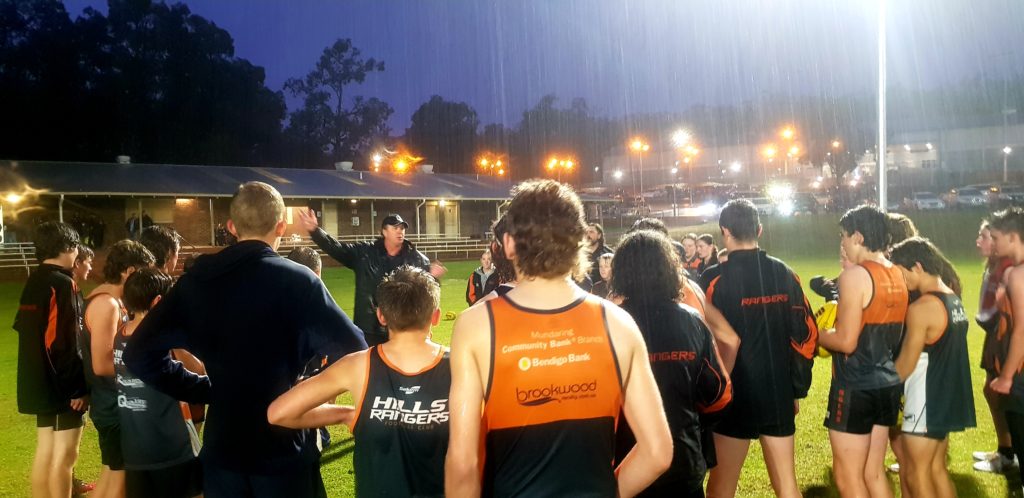 Last night our Hills Rangers Football Club Coaches along with coaches from Mundaring, Parkerville and Darlington Junior Football Club's were exposed to development program styles and insight into training techniques that will improve football skills and participation in our great game.
Swan Districts Football Club's Talent Manager, Greg Harding ran a session with our Y7, Y9 and Y9/10 girls with coaches were assisting and observing the best practice insight into football skills including high touch and high volume training.
Following the practical session, coaches were privileged to hear from Greg who reinforced the importance and value of community coaches and the support and initiatives on offer at SDFC. The messaging came across strong, that working in partnership with community clubs to ensure that the district players and coaches to have the best learning environment for football.
SDFC are committed to investing in coaching and game environment in our zone. To do that, we will be doing everything we can to engage with community clubs and resource them with information and footballs. Due to phones and social media, our kids are handling the ball sparingly in their spare time. To allow our players to progress through the WA talent pathway, we have to adapt and commit to finding new ways to get them the necessary volume so they can succeed in years to come. Through this program and club philosophy we hope to help our participants develop quickly so that they enjoy their footy, and we retain them year to year at all levels of the game

Greg Harding, Talent Manager, Swan Districts Football Club
Hills Rangers Football Club Coach Coordinator, Robyn Fitall acknowledged and thanked the Swan Districts Football Club and Greg for their support.
Coaches have a tough gig… to have the support of Swan Districts Football Club to share their coaching philosophy allows for the our coaches to provide the best learning environment. We know that the Swans are invested in the community and they continue to demonstrate this through programs such as these. We grateful for their insight and education for our coaches.